5 gegen Jauch
Cologne, Germany
AO Technology delivered 

more than 800 metres SOLARIS 

for new TV-Quiz-Show by Günther Jauch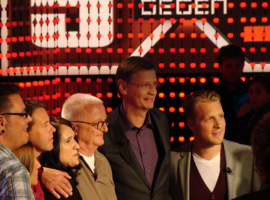 The German TV Shows "Wer wird Millionär" (Who wants to be a millionaire) and "Schlag den Raab" (Beat your Host) were the ingredients for the German TV moderator Günther Jauch, for creating a new multiple choice quiz show named "5 gegen Jauch" ("5 against Jauch"). Together with the German comedian Oliver Pocher as moderator the new show was broadcasted at German TV channel RTL on September 11th.
For this premiere A&O Technology delivered, by order of the nobeo GmbH, about 850 metres Solaris LED modules to the nobeo studios in Hürth near Cologne. For the stage design the Solaris ropes were designed to a wall unit. At all 6,69 million viewers watched the premiere. Due to this success, the Quiz-Show can be continued.
On December 18th, the second show will be broadcasted. The stage design will be inter alia equipped with 850m Solaris by A&O rental park. Especially for this product A&O Technology constructed and produced new mounting angles for a more simple installation. Responsible for the lighting design is mo2 design GmbH.
Solaris is an LED system with diffuse 40mm diameter spheres on flexible ropes. Each rope may be of any length up to a maximum of 8m (64 spheres) and there is no limit to the number of ropes that can be used in one installation. This enables large format transparent 360° video curtains in any shapes, curved or wound.
LOCATION:
nobeo Studios in Hürth near Cologne, Germany


DATE:
September 11th, 2009
December 119th,2009


AO EQUIPMENT:
ca. 850 m SOLARIS


LIGHTING DESIGN:
mo2 design GmbH
STAGE DESIGN:
Atelier Jürgen Schmidt-André
SUPPORT:
A&O Lighting Technology Germany
PHOTOS:
Helge Altenschmidt