Toshiba MEA's KIOXIA launch
Dubai, UAE
AO Drones 

realizes social media drone show for Toshiba's KIOXIA brand launch in Middle East region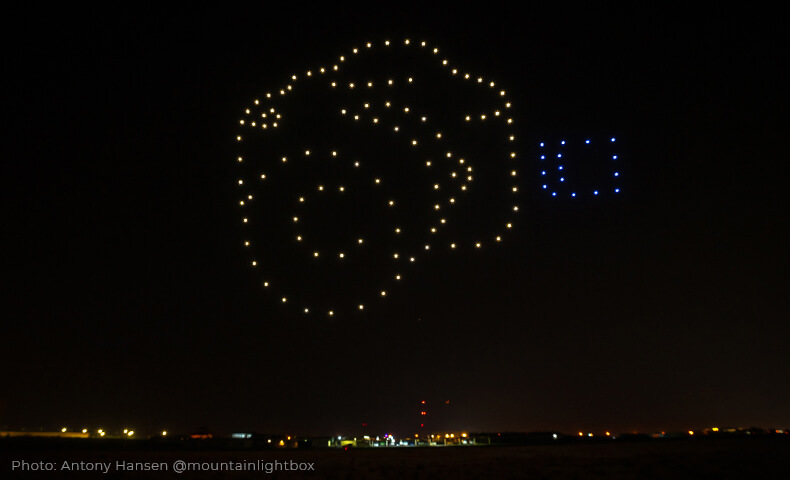 In the middle of the year, Toshiba Memory announced its rebranding to Kioxia. To strengthen the marketing and communication of the new brand "Kioxia", the client requested the video shoot of a drone show for a social media campaign. The content for this was developed in close collaboration. Working with the client, AO Drones created custom content such as memory cards that slide into a camera or smartphone and programmed them into a light show that lasted about 11 minutes. A total of 120 drones flew the new naming campaign, presenting alternating animations of memory card usage, images and text. A professional video shooting team accompanied the air show at Sanad Academy and created the final campaign video from it.
Sometimes things go differently than planned. Especially in the year 2020, which, under the influence of the COVID-19 pandemic, poses a challenge to many and throws some plans out of kilter. This was the case for Toshiba Gulf FZE, who contacted AO Drones in April for a launch campaign for their new brand. AO Drones was ready – but circumstances due to the current COVID-19 impact in the region forced the companies to reschedule. Producer Marco Niedermeier, of AO Drones, said, "After two postponed dates, we were then allowed to implement the project in November. We are very happy that it worked out with the project in the end and that our client can now strengthen the social media advertising for the Kioxia brand with an exciting launch video of a special kind." And the customer Toshiba Gulf FZE is also very happy with the result.
Drone light shows are still one of the young and fresh tools for the marketing world. Regardless of whether there is a live audience or flown directly for a video shoot, in the end, live as well as digitally, an amazed and enthusiastic audience is left behind. Drone shows are ideal for social media use, especially in the very restricted times of the pandemic, and can reach an audience of millions despite the restrictions.
And once live audiences are allowed again, they can also be a wonderful replacement for various fireworks shows. This is because with its dynamic storytelling as well as the magical effect that this type of entertainment still has on people, it is versatile and also environmentally friendly.
The name Kioxia combines the Japanese word kioku for "memory" and the Greek word axia for "value" – in keeping with the company's mission to uplift the world with "memory," which is the foundation of its corporate vision.
LOCATION:
Dubai, UAE
DATE:
November 2020
SHOW DESIGN:
Drone show by AO Drones 

PHOTOS:
Antony Hansen @mountainlightbox
 
VIDEO BY:
GTV Film Production Dubai
CLIENT:
Toshiba Gulf FZE
Making of drone show Kioxia