Porsche Taycan launch
Dubai, UAE
AO Drones 

realizes drone show for the exclusive Porsche Taycan launch in Dubai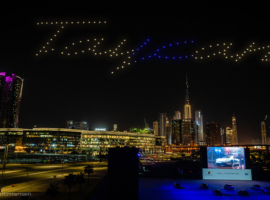 In the form of a contactless drive-in event with video screen and light show, Porsche Middle East and Africa FZE celebrated the official and exclusive market launch of its first new all-electric sports car in the world – the Porsche Taycan – in Dubai, setting an important milestone for the successful future of the company. The video content was supported in a version not yet seen: Bright, dynamic entertainment drones from AO Drones flew logos and silhouettes above the screen. An exciting new way of presentation.
The launch event of Porsche Middle East & Al Nabooda Automobiles for the new model was implemented using technology that was still largely new – drones. AO Drones supplied this fascinating show element in the form of 120 drones with a brightness of 900 lumens each, thus extending the narrative space at the Dubai Design District (d3) to a width of 200 metres. This unique presentation backdrop impressed both the customer and the guests.
In compliance with the safety protocols laid down by the government of the United Arab Emirates, over 200 invited guests were able to follow the history of the first hybrid vehicle, the Lohner Porsche developed by Ferdinand Porsche in 1898, through to the first fully electric Porsche Taycan presented today. For the part of the drone show they trusted the experienced partner AO Drones with producer Marco Niedermeier. Together with the client, the show elements were worked out, which flew in formations above the skyline, changing through the different silhouettes of the Porsche models, logos and keywords such as "Taycan" or "Soul, Electrified". The drones proved to be an elegant and yet powerful accompaniment to this festive event, which wonderfully combined history, present and future in terms of content and material and presented a very unusual and noble light show.
Parallel to the launch event, the various show elements were filmed and then edited into exciting advertising material for social media. In this way, the customer was able to increase the awareness of the launch even more.
AO Drones realized the drone show for Done Events.
LOCATION:
Dubai Design District (d3), UAE
DATE:
October 2020
SHOW DESIGN:
Done Events
Drone show by AO Drones 

PHOTOS:
Antony Hansen @mountainlightbox
Done Events 
Video by:
GTV Film Production Dubai
CLIENT & ORGANISATION:
Done Events for Porsche Middle East and Africa FZE & Al Nabooda
Porsche Taycan Launch Dubai