Burj Khalifa from New Year's Eve to extension shows
Dubai, UAE
AO Creative mastered 

NYE event 

and

extension shows 

at Burj Khalifa under strict COVID-19 protection measures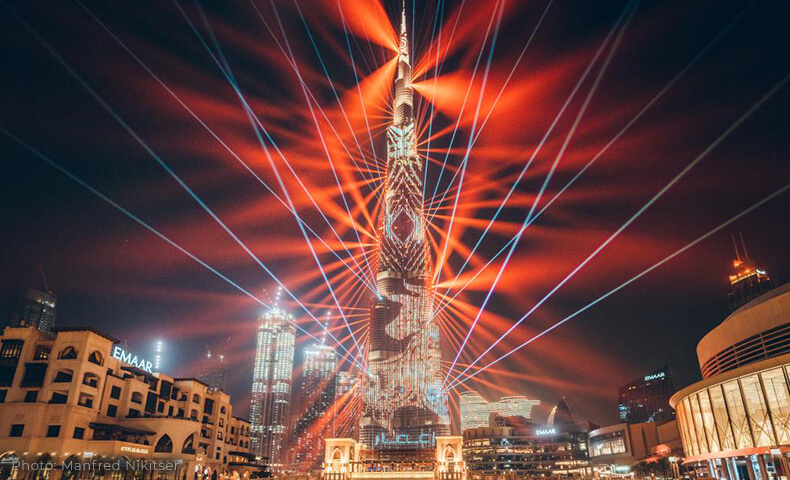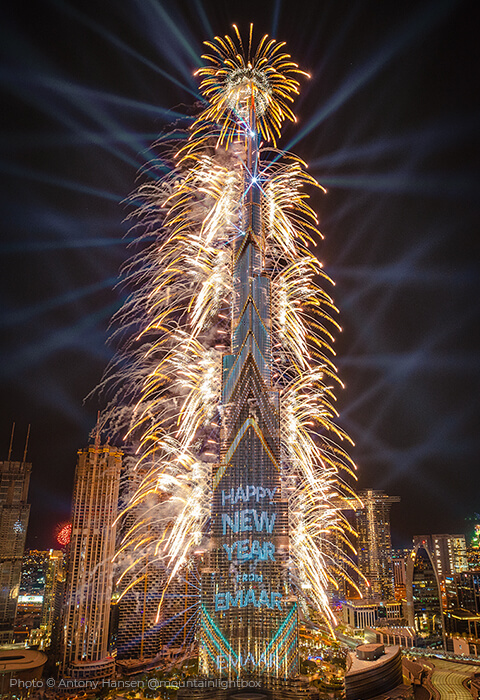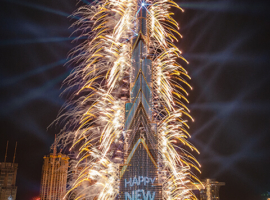 The spectacular New Year's Eve light show at the Burj Khalifa in Dubai is known worldwide. Every year, interested people travel to the emirate at the turn of the year just for this event. Every year, the spectacular show goes into a kind of extension and presents other magnificent light shows for three months, which stand out from the daily performances at the tower.
This is because the spectacle is so popular with locals and tourists that a new show is programmed to celebrate Chinese New Year, and another four separate abstract shows run for three months until the end of March. Thus, the Emirates Mars Mission, known as #HopeProbe was also honoured with its own light show.
This project began at the end of a year when a global pandemic forced almost all annual events to cancel. In contrast, Emaar Properties, the organisers of the Dubai New Year celebrations, and its technical, multi-media supplier, AO Creative, remained steadfastly committed to delivering an ambitious, visually spectacular New Year's Eve light and laser show from the façade of the Burj Khalifa skyscraper.
CHALLENGE
In a year when many events around the world were cancelled because of the Covid-19 global pandemic, AO Creative made major changes to its working practices that allowed it to deliver a dramatic and emotionally moving New Year light, laser and firework show from the façade of Dubai's 828-meter Burj Khalifa.
Created on behalf of client, Emaar, this was AO's third year behind Dubai's globally popular New Year event. As in previous years, AO Creative's team of producers, project managers, riggers and engineers worked with lighting designer Jerry P. Appelt and his team of programmers to design, rig and programme the vivid light and laser show. This in turn performed in synchronisation with tonnes of pyrotechnics, also rigged on the façade of the building.
Each year the AO team have to work at extreme height, sometimes in hugely challenging weather conditions, to transport and install the heavy and unwieldy cabling, lighting and laser equipment through the building and onto its exterior. The result is a striking, super-sharp, beat-perfect spectacular that complements the stunning video story, broadcast from the building high LED video screen.
Of course, 2020 bought the added challenge of keeping the specialist teams – and every member of the public they interacted with – safe and healthy throughout the pre-production period and beyond. AO Creative had to devise and implement considerable changes to its working practices in order to adhere to strict Covid restrictions and guidance on social distancing and hygiene.
This was further complicated by the fact that at least two-thirds of the specialist engineers, riggers and crew have to travel into Dubai from other countries. Furthermore, the AO Creative home team has to arrange the crew's international travel, visas, working visas and accommodation, while satisfying quarantine and testing demands.
For the duration of the install the AO Creative team was broken down into smaller, self-contained units, housed in separate hotels and worked a shift system. Each team was transported in isolation to the Burj Khalifa, ensuring that if there were a Covid outbreak in one team the project could continue without disruption. A robust health monitoring and testing system for the staff was also essential. However, with tight schedules there was no time for each member of the crew to go off-site to be tested at a clinic. As a result, AO Creative worked with the local hospital to install an onsite testing and health monitoring station at the Burj Khalifa itself.
SPECIAL FEATURES
Creating the logistical and technical workflows and conditions that would allow over 150 specialist crew to work in sync, while maintaining social distancing and hygiene rules, in an economically and logistically realistic time-frame was the major challenge. What's more, they had to ensure that staff were regularly tested for Covid and that every part of the building that the team came into contact with was kept clean and virus-free. Finally, and perhaps most importantly, AO Creative had to establish a communication network that would enable worldwide, real-time, remote collaboration between the design team, technical team and the client throughout the creative process of pre-visualisation.
REALIZATION
AO Creative relied on effective real-time visual communication enabling everyone from the client to the technical team to fully understand and interact with the project schedule and realisation. Lighting designer Jerry P. Appelt directed the design from Germany and Emaar's representatives interacted from their own offices, while a team of programmers and project managers worked from a sophisticated pre-visualisation studio, temporarily built in the basement of the Burj Khalifa. The FOH was set up in the Dubai Mall with an ideal view to the Burj Khalifa's played façade.
AO Creative road-tested numerous cloud-based communication software systems to settle upon a suite of video communications software that allowed the AO Creative teams to design an efficient and effective workflow. This proved so successful they actually completed the project ahead of time!
RESULT
This year the Dubai New Year light, laser and pyro show under the theme of 'togetherness' was every bit as spectacular as the two previous years. According to this motto, AO Creative collaborated with local and global teams, in a hygienic and safe way, to deliver one of the most complex and dramatic New Year celebrations in the world.
This spectacle is so popular with locals and tourists that new show content is programmed to celebrate Chinese New Year. In addition, four other separate abstract shows will be presented. Thus, the Emirates Mars Mission, known as #HopeProbe was also honoured with its own light show. They will run until the end of March.
Although the working conditions were unprecedented and hugely challenging, AO Creative did what it does best – it proved it could solve any kind of live production design and delivery challenge. In the process, the company answered many difficult questions and solved many, until recently, unimaginable problems. It has developed new, efficient workflows and sophisticated real-time, collaboration systems. Looking forward, AO Creative continues to build its own bible of processes that will further enable its expert teams to work safely on large-scale events throughout the global pandemic.
AO Creative under the direction of Jerry P. Appelt with Lighting Director Manfred Nikitser
PHOTO
Antony Hansen @mountainlightbox, Manfred Nikitser
LOCATION
Dubai, UAE
CLIENT
EMAAR