With the first drone flown QR code Nike launches new JORDAN concept store in Dubai
Dubai, UAE
AO Creative delivers the UAE's

first drone flown QR code

for Dubai's Nike JORDAN concept store launch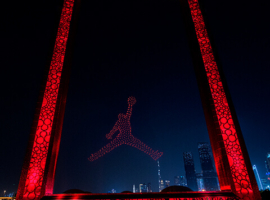 Two firsts in one go: The first drone show ever at the Dubai Frame and the first flown QR code in the UAE were realized by AO Creative for Nike's brand JORDAN.
The launch of Nike's new Jordan Concept store in Dubai was worthy of spectacle: the 2,500-square-foot Dubai store, in the Dubai Mall – the world's biggest – is something special, from the design to the future-looking immersive experience to the digital aspects.
AO Creative was approached to deliver a drone event as part of the public launch of the store, which was focused around Dubai's 150-metre-high landmark Frame structure. The production team wanted AO Drones to form a giant version of the famous Jordan 'Jumpman' logo within the Frame. To achieve this, and on the scale required, the AO Drones team, headed by Marco Niedermeier, put 600 of industry leading drones into action, programming them to choreograph into a four layered, three-dimensional, rotating facsimile of the 'Jumpman' logo.
In addition, the team wanted a way for people watching to be able to discover more about the store. Therefore, the AO Drones team programmed the drones to morph into a fully scannable 3D QR code. It was the first ever drone flown QR code to happen in the UAE.
Due to COVID restrictions in the country, the client could not make the show an official public event, so the activation was designed to be filmed from the get-go. To achieve this, the AO Creative team employed three camera drones to film and photograph the event. The resulting video was then edited for a Nike Jordan digital and social campaign across the brand's communication channels.
AO Creative also delivered full event production, including the lighting execution, which added drama and atmosphere to the drone formation, alongside power and data distribution and a grandstand platform for the 100 invited guests and influencers.
In the run up to such a momentous event, the AO Drones team also completed a detailed feasibility study. This is because the Dubai Frame is not an easy area to fly in, due to the nearby highway and airport, which come with several restrictions. These meant that the team could not fly the drones higher than 120m and the design had to be created with pinpoint precision for the code to register on phones.
The drones were guided by GPS, using software that enables live communication between each object.
Environmental considerations were also key. Luckily, it was below 40 degrees and wind levels were low. In addition, planning complex drone shows come with their own logistical challenges.
The unique 3D drone concept bought a tangible sense of the future to the opening of Nike's 2,500 sq. ft retail space in the Dubai Mall, which exclusively stocks the Nike Jordan brand, inspired by NBA titan Michael Jordan.
You would also like to present your QR code in the sky with drones? Make your request here.
AO Creative 
PHOTO
Antony Hansen @mountainlightbox
LOCATION
Dubai Frame, Dubai, UAE
CLIENT
GMG for Nike's brand JORDAN
JORDAN store launch – social media clip