AO Technology casts 

Dubais Financial Centre 

in a dramatic light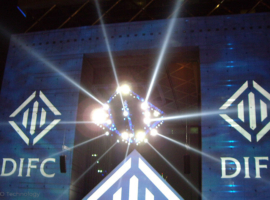 The Dubai International Financial Centre (DIFC) celebrated its third birthday in November 2007 with a lavish evening gala. The vibrant financial district of the desert emirate of Dubai treated guests from all over the world to an unforgettable evening's entertainment that included a firework display, a searchlight extravaganza and a multimedia show as well as live performances by distinguished international and regional stars from the world of classical music. The lighting equipment service provider A&O Technology Middle East was commissioned by N&M München/Dubai and HQ Creative Dubai to provide searchlights and architectural lighting for the event.
Implementing a lighting design by Nick Jevons, HQ Creative and N&M, A&O Technology deployed its equipment to impressive effect, casting both the setting and the acts, which included the Il Divo quartet and the Lebanese artists Harout Fazlian and Henri Zoghaib with their vernacular renderings of Mozart arias, in a dramatic light. Amal Maher, the Armenian Philharmonic Orchestra, the State Academic Choir of Armenia and the Syrian soprano Talar Dekrmanjian also contributed to the evening's entertainment, which was retransmitted live on Dubai TV.
The A&O crew illuminated part of the building complex of the DIFC with 16 SKY FALCON® ARC colour 1,2 kW architectural luminaires, which were used inter alia to light the side buildings, the images of which were then relayed to the main building by the largest video projectors in the UEA. Meanwhile six FALCON® BEAM 3 kW, two FALCON® FLOWER 3 kW and five FALCON® BEAM 7 kW searchlights were positioned on the roofs of the adjacent buildings and above the stage.
Eleven of the FALCON® BEAM 3kW units were flown from the trussing to illuminate and intensify the impact of the performances on stage. The event was attended by VIPs from all over the world, including His Highness Sheikh Mohammed Bin Rashid Al Maktoum, Vice President and Prime Minister of the UAE and Ruler of Dubai.
AO Technology at 

DIFC jubilee 2006 

– Notes of success
Jubilee of the DIFC lighted up with FALCON BEAM xenon searchlights. After a very successful year, the Dubai Stock Exchange celebrated its anniversary on 30 November 2006. Within two years the DIFC (Dubai International Financial Centre) has become the largest exchange for Islamic Sukuks (Islamic bonds). 2500 guests were invited for the biggest event in 2006 in Dubai.
A&O Technology Middle East supplied and installed the lighting systems. Xenon searchlights FALCON BEAM 3000 W were suspended in a truss system, which was mounted at a height of 35 metres. Further FALCON BEAM 7000 W systems were placed on the floor and aligned to illuminate the gate. A special feature of the birthday party was the performance of the Spanish tenor José Carreras.
LOCATION:
Dubai, UAE
DATE:
November 2007, November 2006, November 2005
AO EQUIPMENT:
2007: 16 SKY FALCON ARC colour 1.200 W, 6 FALCON BEAM 3.000 W, 2 FALCON FLOWER 3.000 W, 5 FALCON BEAM 7.000 W
2006: FALCON BEAM colour 3,000 W, FALCON BEAM colour 7,000W
2005: Xenon searchlights
LIGHTING DESIGN:
2007, 2006, 2005: Nick Jevons, HQ Creative, Neumann&Müller
SUPPORT:
A&O Technology Middle East
PHOTOS:
A&O Technology