AIDAdiva
Hamburg, Germany
AO Creative set in stage 

the AIDAdiva christening 

with more than 200 searchlights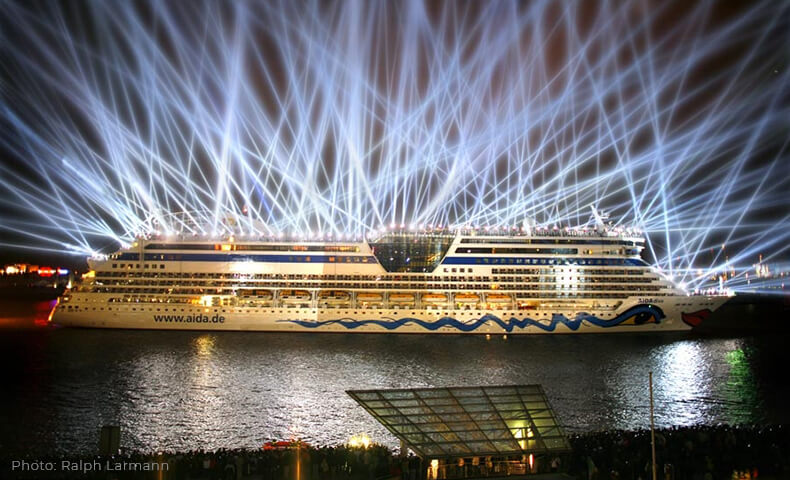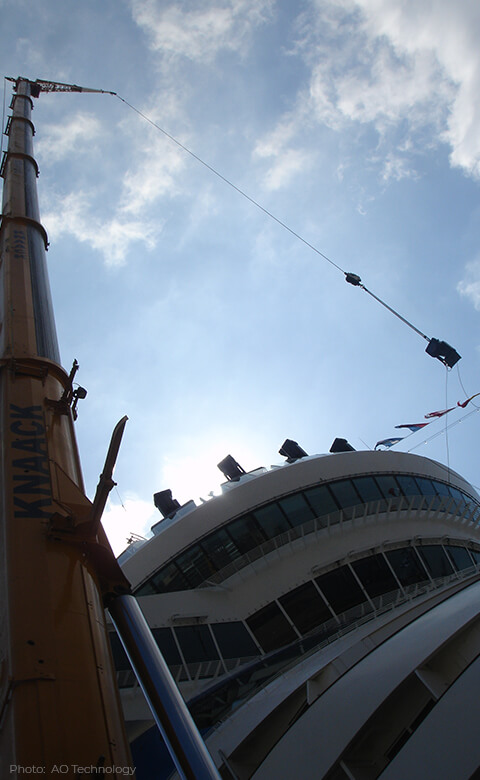 CHALLENGE
Creating an impressive lighting show for the ship naming ceremony of AIDAdiva.
SPECIAL FEATURES
Opera-like ceremony
Creating an impressive and unique lighting show
Music especially composed for the event
Huge armada of searchlights, installed in different height levels at the luxury cruise ship
Interaction of searchlights, music, laser, fireworks
REALIZATION
With an impressive lighting show the luxury wellness cruise ship AIDAdiva was celebrated during its ship naming ceremony.
The well known lighting designer Gert Hof illuminated the harbour of Hamburg in a spectacular way. During the opera-like ceremony the AIDAdiva passed from Hamburg Cruise Terminal up to the "Fischauktionshallen" (fish auctions halls), accompanied by music especially composed for her and an unique lighting show.
By the order of the general contractor Procon Multimedia AG and the support of OSRAM, Arts Outdoor Lighting Technology delivered a total of 40 FALCON BEAM 7kW, as desired by Gert Hof. The xenon searchlights, equipped with colour changer, were installed in different height levels at bow and rear of the luxury cruise ship.
Delivery and installation of the FALCON fixtures by Arts Outdoor Lighting Technology in Bremen/Germany.
RESULT
AO Creative directed by Gert Hof realized an extraordinary opera-like ceremony. A huge live audience celebrates the event which was broadcasted on different TV channels and newspaper.
LOCATION:
Hamburg, Germany
DATE:
April 2007
LIGHTING DESIGN:
AO Creative under the direction of Gert Hof, supported by OSRAM
AO EQUIPMENT: 
40 FALCON BEAM 7kW
 
PHOTOS:
Anja Pietsch, Sabine Wenzel, Guido Karp, Olaf Heine, Ralph Larmann, AO Technology
CLIENT:
Procon ultimedia AG for AIDA Cruises