The Yas Hotel
Abu Dhabi, UAE
The Yas Hotel 

Ferrari night at the Formular 1 race track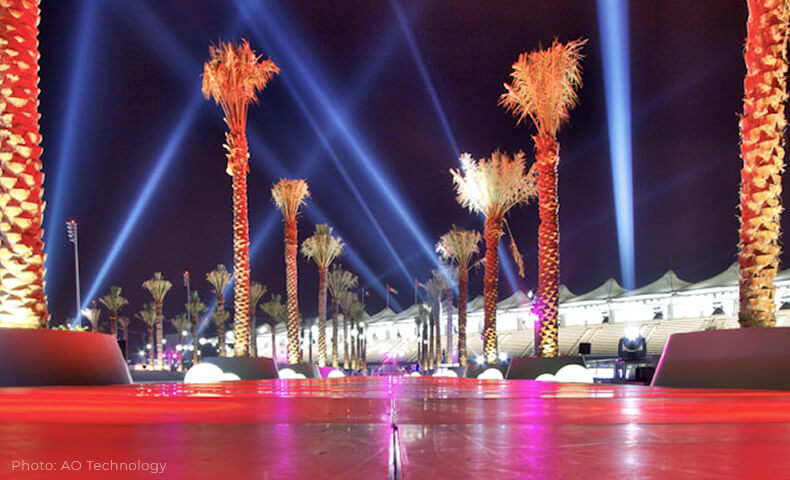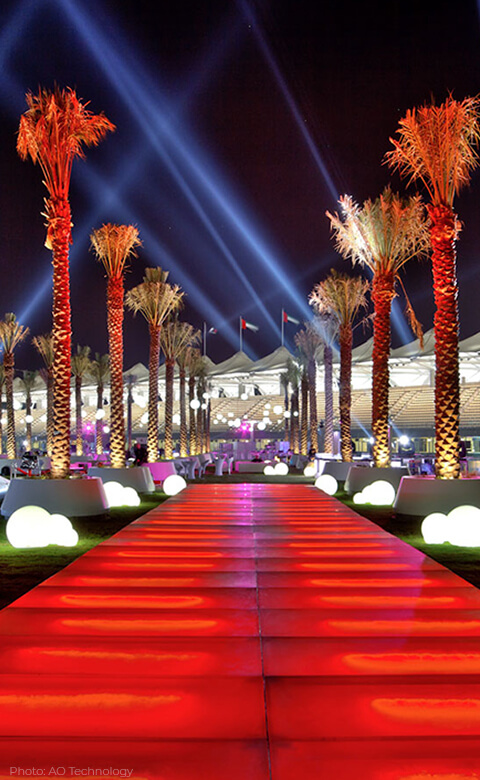 A&O xenon searchlights set highlights for VIP soft opening of "The Yas Hotel"
With temperatures exceeding 30 °Celsius in November, Abu Dhabi saw an event beyond belief: the official opening of the new and unique formula 1 race track as part of the 2009 season finals.
On the occasion of the race track inauguration, the 5-star Yas Marina Hotel held a VIP reception as part of their soft opening. The invited guests enjoyed the season's final race in a classy and stylish ambience. Mamemo productions contracted A&O Technology to provide Xenon Searchlights for the illumination of the area. Alongside an atmospheric lighting visualization of the seating areas, A&O xenon searchlights were circling the evening sky. Responsible for the lighting design was mamemo productions.
YAS Marina Hotel is part of ALDAR Properties PJSC development Yas Marina on Yas Island in Abu Dhabi. The luxurious 500-rooms hotel is directly integrated into the new race track of the Yas Marina circuit. The racing pilots drive during the race below the bridge which connects both wings of the hotel. The 16,000sqm dome-like, self-supporting roof consists of 5,000 diamond-shaped glass panels as well as more than 10,000 steel connecting components. The colour change on the outer shell of the building was achieved through LED's which were installed at the roof.
In addition, the Abu Dhabi Grand Prix was accounted for another highlight: it was the first day & night race that took place during a Formula 1 season. Thanks to state-of-the-art and precisely aligned flood-lighting, the race started at dawn and the pilots had no problems driving into the dark.
"The Yas Hotel" Ferrari Night, a mamemo production
LOCATION:
The Yas Hotel, Abu Dhabi, UAE
DATE:
2009
A&O PRODUKTE:
A&O Xenon Searchlights
LIGHTING DESIGN:
mamemo productions, Sam Katiela; A&O Technology
SUPPORT:
A&O Technology Middle East
PHOTOS:
mamemo productions