Stock Car Crash Challenge
Germany
TV Total 

Stock Car Crash Challenge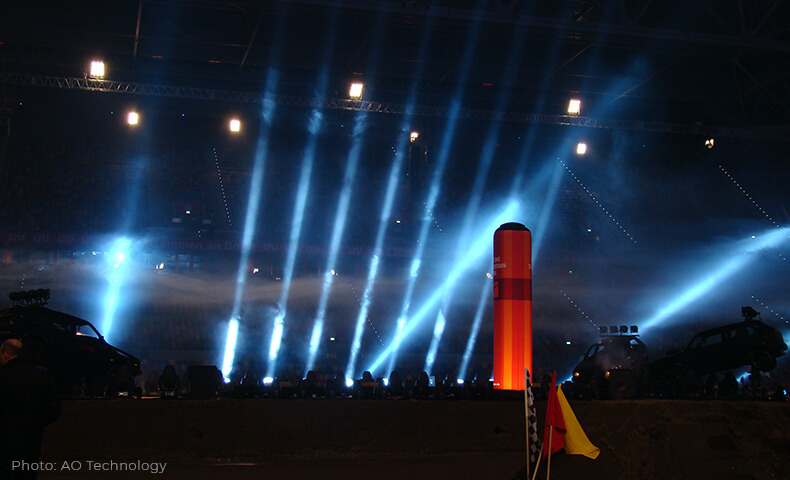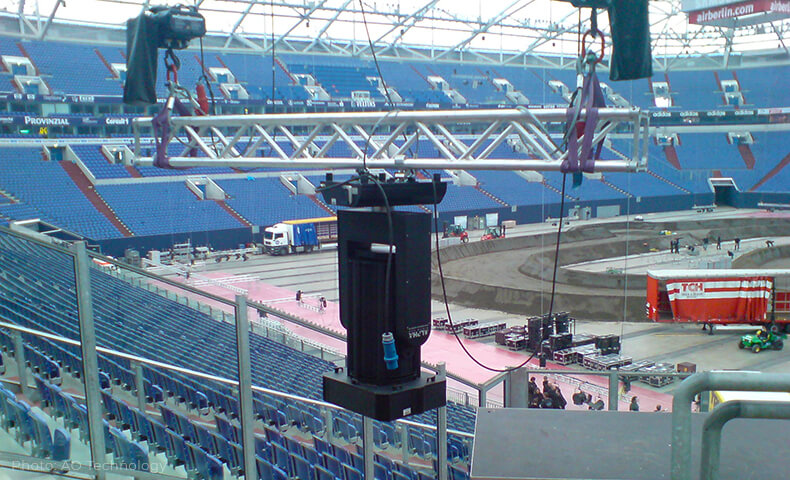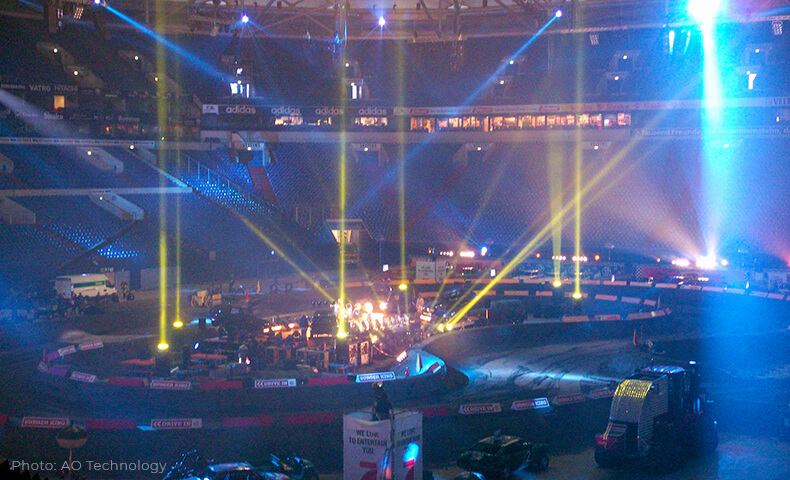 AO Technology supported TV Total Stock Car Crash Challenge

2008
Date:
Qualifying: Friday, November 28, 2008, 10:15 pm, Live at Pro7
Main Challenge: Saturday, November 29, 2008, 8:15 pm, Live at Pro7
Location:  LTU Arena Düsseldorf
FALCON® equipment:
24 FALCON® BEAM 3.000W
6 FALCON® FLOWER 7.000W
6 FALCON® 6000 CMY
Lighting Design:
Andreas Ellmerer, Thomas Brügge (Cape Cross)
In order of:
Cape Cross
Photos:
A&O Lighting Technology GmbH
AO Technology supported Cape Cross at TV Total Stock Car Crash Challenge

2007
On 20 October 2007, many celebrities from TV, music and sport met in the Veltins Arena on Schalke. The reason for the star line-up was the third "TV total Stock Car Crash Challenge" including qualifying laps by host and race participant Stefan Raab. The TV-total presenter received sporting competition at the races from Shaggy, Sabrina Setlur, Axel Schulz, Mike Krüger, the cooking duo Lafer und Lichter and Joey Kelly, among others.
The musical highlights were provided by the Stefan Raab band "Dicks on Fire", Shaggy, Sarah Connor and Culcha Candela. A&O Lighting Technology was also present, the lighting service provider supported the event with its equipment for the third time in a row. On behalf of Cape Cross Studio & Filmlicht GmbH and after a lighting design by Andreas Ellmerer, A&O Technology supplied the location with a total of 60 FALCON searchlights.
Eight FALCON FLOWER 3kW and 20 FALCON BEAM 3 kW were used for the race spectacle from the sold-out VeltinsArena, which was broadcast live by ProSieben and installed suspended in the roof. In addition, the A&O team placed 16 FALCON FLOWER 3 kW, 10 FALCON BEAM 3 kW and 6 FALCON BEAM 7 kW in the arena. The competitions in the hall with its 170-metre long course were thus staged with Xenon lighting systems.
TV Total Stock Car Crash Challenge

2006
Date: October 2006
In the order of: 
CapeCross Studio Film & Licht GmbH
Lighting Design:
Andreas Ellmerer (CapeCross)
A&O Equipment:
28 FALCON® BEAM colour, 56 Xenon Searchlights 
LOCATION:
Germany
DATE:
2005, 2006, 2007, 2008, 2009

FALCON® EQUIPMENT:
FALCON® BEAM 3,000W
FALCON® FLOWER 7,000W
FALCON® 6000 CMY
LIGHTING DESIGN:
Andreas Ellmerer, Thomas Brügge (CapeCross)
IN THE ORDER OF:
CapeCross
PHOTOS:
A&O Lighting Technology GmbH