Qatar's bid for the olympics
Doha, Qatar
A&O Technology Middle East supports 

Qatar's bid for the olympics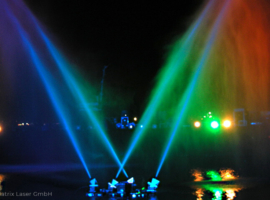 For the presentation of Qatar's application to host the Olympic Games in 2016, Matrix Laser GmbH and Qatar Media commissioned the Abu Dhabi-based service provider A&O Technology Middle East to provide support for the show at Doha's famous Corniche waterfront. For the event, on the 25th October, A&O Technology installed a battery of lights to illuminate a water screen on a floating platform. The lighting design was developed by Matrix Laser GmbH, whose Rainer Krause was responsible for the implementation.
The employed equipment consisted of twelve SKY FALCON® ARC colour 1.2 kW fixtures as well as ten A&O Searchlights. The FALCON® architectural lighting system was installed at the front edge of the swimming pontoon to illuminate the water screen as well as the fountains positioned alongside. The searchlights were lined up along the rear of the platform and used to create a variety of images in light and add spatial depth to the lightshow.
The show, which was broadcast live by Al Jazeera and attended by a host of VVIPs that included not only members of the Olympic Committee but also Qatar's Royal Family, was so well received that the services of A&O Technology Middle East are now much in demand for other projects.

LOCATION:
Corniche waterfront, Doha, Qatar
DATE:
October 2007
A&O EQUIPMENT:
12 SKY FALCON ARC colour 1.200W
10 A&O Searchlights
SUPPORT:
A&O Technology Middle East
IN ORDER OF:
Matrix Laser GmbH and Qatar Media
LIGHTING DESIGN:
Matrix Laser GmbH, whose Rainer Krause was responsible for the implementation