Inauguration of Dubai Water Canal
Dubai, UAE
Bridges in the light – 

"Dubai Water Canal" 

officially opened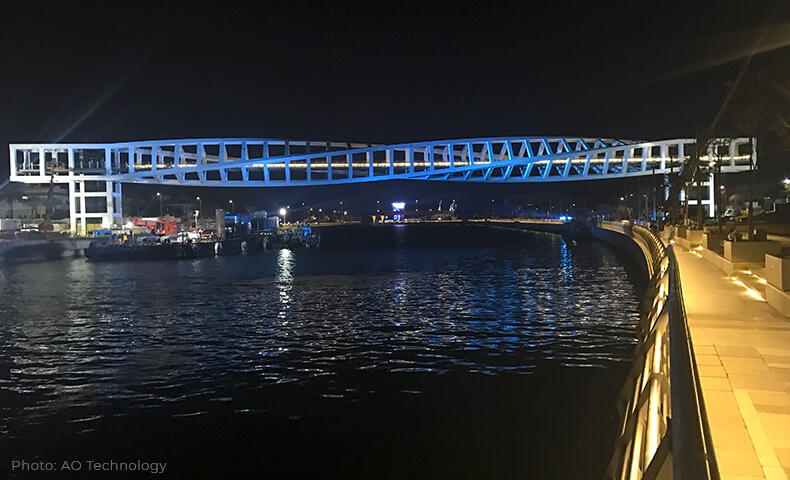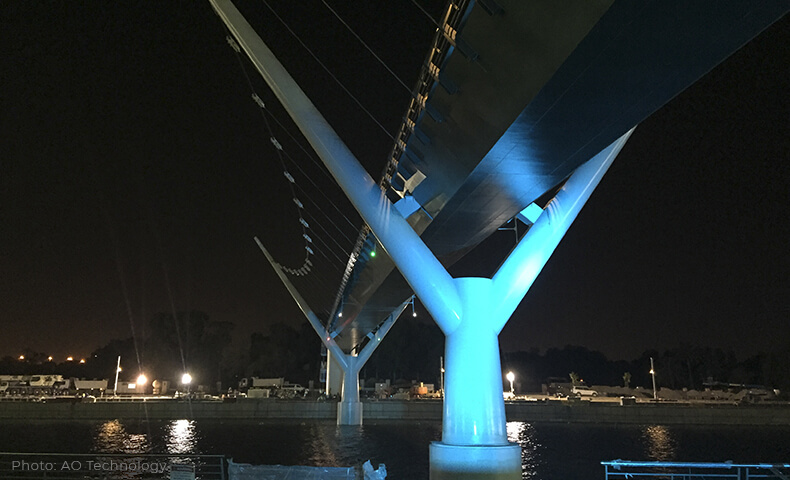 For the inauguration of the Dubai Water Canal, AO Lighting was commissioned by Scientechnic to bathe two pedestrian bridges in blue, white and golden yellow light for a period of two weeks.
After some three years of construction work, Dubai celebrated the official opening of the Dubai Water Canal with an impressive son et lumière. To mark the occasion, AO Lighting was commissioned by Scientechnic L.L.C to adorn the 120-metre-long Y-Pillar Bridge and the 140-metre-long Twisten Bridge with coloured light for a period of two weeks. The two bridges pass about eight and a half metres above the surface of the water. For the illumination of the Y-Pillar Bridge, FALCON BEAM 7kW luminaires were selected, whereas for the Twisted Bridge FALCON 6000 CMY were preferred. His Highness Sheikh Mohammed bin Rashid Al Maktoum, Vice President and Prime Minister of the United Arab Emirates and Ruler of Dubai, inaugurated the canal on 9 November with a number of senior officials, business leaders and other dignitaries in attendance.
The most recently completed section, between Sheikh Zayed Road and Jumeirah Beach, is a 12-kilometre waterway connecting Dubai Creek with the Arabian Gulf. The canal transforms the district of Bur Dubai, the neighbourhoods of Jumeirah 1 and 2, and downtown Dubai into an island. As the city's latest landmark, the Dubai Water Canal represents a new destination for relaxation and leisure activities and will give fresh impetus to tourism and trade.
LOCATION:
Dubai, United Arab Emirates
DATE:
November 2016
AO EQUIPMENT:
FALCON BEAM colour 7.000 W
FALCON 6000 CMY 
LIGHTING DESIGN:
AO Lighting (Installation & Programming)
PHOTOS:
AO Lighting