Drone & searchlight light show launches Dubai Harbour's new cruise terminal
Dubai, UAE
AO Drones realized a drone and searchlight show for the

inauguration of Dubai Harbour's new cruise terminal

on behalf of Eventify Entertainment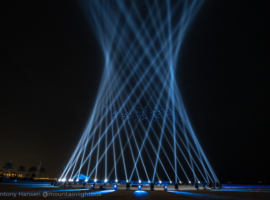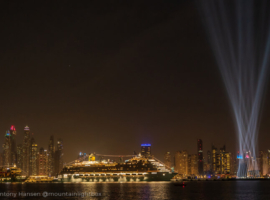 On behalf of Eventify Entertainment for DXB Live, AO Drones realized a drone and light show for the inauguration of Dubai Harbour's new Cruise Terminal.
Drone shows are exciting experiences in themselves. But when drone lights interact with a bright AO FALCON xenon searchlight twister, something extraordinary happens. Light sculptures combine with drone imagery to present an unforgettable show in the night sky.
For the inauguration, 32 FALCON BEAM 2 with 24 AO MITES 2000 and 300 drones were used. Content and set-up were planned and prepared in a short time.
AO Drones on behalf of Eventify Entertainment
PHOTO
Antony Hansen @mountainlightbox
LOCATION
Dubai Harbour Cruise Terminal, Dubai, UAE
CLIENT
Eventify Entertainment for DXB Live
Dubai Harbour cruise terminal launch – Show highlights
Dubai Harbour cruise terminal launch – Behind the scenes