Naach K'inil
Campeche, Mexico
Naach K'inil – 

GA iluminación chooses FALCON for monument

in Campeche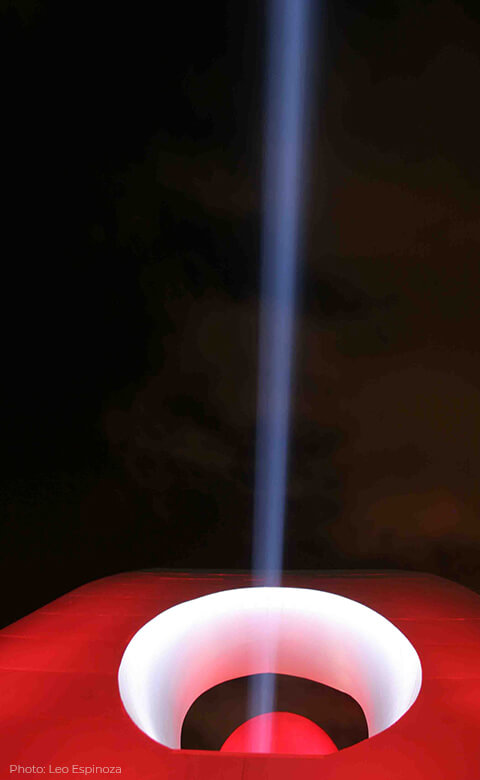 Last year, GA iluminación purchased a FALCON STATIC ARC white 8,000W architectural searchlight—currently the most powerful item of architectural lighting in the FALCON range manufactured by alpha one — from the service provider A&O Lighting Technology GmbH of Germany. The destination for the purchase was the important Naach K'inil monument in Campeche, Mexico, of which it is now an integral part. The FALCON STATIC ARC white 8,000W searchlight underscores the fundamental concept of the monument and is therefore the most significant of all the effects used in the project. The focussed beam of xenon light, which can be seen for miles around projecting beyond the monument into the night sky, symbolizes the spirit of the community transported towards an eternally bright future. The illumination also involves RGB LEDs that change colour, bathing the façade of the monument in the red, white and green of the Mexican flag, whilst the time capsule itself is picked out in an unchanging red.
The Naach K'inil monument was inaugurated by Campeche's governor, Jorge Carlos Hurtado Valdez, to mark the 150th anniversary of the political emancipation of the state. To the three hundred children attending the ceremony, Hurtado Valdez stated that the time capsule should not be opened before 2058, when the state would be celebrating the 200th anniversary of its emancipation. The collection of works contained in the capsule would then serve as a documentary record reminding the state's citizens of the achievements of their parents and grandparents. To ensure the integrity of the collection, the state's congress has placed a preservation order on the entire monument and its contents.
The monument was designed by the architect Luis Arriaga López, who won the competition organized by the Comité Organizador de los Festejos. "Naach K'inil", the name he gave to the work, means "Into the infinity" in Mayan. The core of the monument is the time capsule itself, a red sphere conceived as an eternal record of the culture, history and achievements of the people of Campeche from its emancipation through to the present day. Arriaga's design derives its vitality from the interplay of light, water and plants, dramatically enhanced through the use of LED elements and FALCON xenon searchlights and reflected in aluminium mirrors. The lighting design was the work of the agency 333 Luxes and the general supervision by the government office CESMOPAC headed by Jose Buenfil developed the idea. The task of GA iluminación was to assemble the requisite lighting equipment for the realization of the project. The integrated lighting systems, including the FALCON STATIC ARC searchlights, are controlled automatically, with scene changes effected all year round by DMX.
LOCATION:
Campeche, Mexico


DATE:
April 2008 
 
A&O EQUIPMENT:
FALCON STATIC ARC white 8kW
 
LIGHTING DESIGN:
Luis Arriaga Lopez

PHOTOS:  
Copyright  Leo Espinoza