Michalsky StyleNite
Berlin, Germany
AO Creative set in stage 

the Michalsky StyleNite

 at Mercedes Benz Fashion Week, Berlin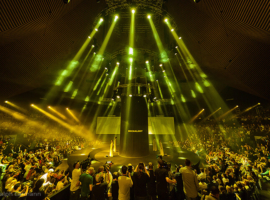 CHALLENGE
Light architect Gert Hof in cooperation with AO Creative set in stage the MICHALSKY StyleNite in at the Tempodrom during the Mercedes Benz Fashion Week 2011. The internationally known fashion designer Michael Michalsky celebrated his 10th anniversary of fashion shows in Berlin. AO Creative directed by light architect Gert Hof designed and directed the opening of the MICHALSKY StyleNite with a spectacular light performance.
SPECIAL FEATURES
Designing and directing the opening
Spectacular light performance with searchlights
Exclusive and one-time staged
Set new standards and terms of light show performances in fashion shows
REALIZATION
Whilst the works of Gert Hof typically were watched by hundreds and thousands of viewers on television, this performance was exclusive and one-time staged for about 1.400 guests of the StyleNite. For Gert Hof it iwas a premier: "I'm so glad to work with Michael Michalsky and to have the opportunity to reflect with my elements of light design his creations in fashion in the unique location of the Tempodrom."
It was one of a few indoor events which Gert Hof has designed and performed. It was a challenging experience for the artist and the lighting technology because of the folded roof construction and the architecture of the building. "My Triptychon of lights will give a unique light experience to the show in the Tempodrom. It will create a school of astonishment. The dome of concrete where in the zenit daylight is shining through will be the center of my light installation. Each material has its own specific attribution and its tabus as well as its character, will tell its own story. It is to find out the perfect essence and the optimum of voice between the different materials."
RESULT
78 FALCON Xenon Searchlights were used in the indoor arena Tempodrom in Berlin to set new standards and terms of light show performance in fashion shows.
According to Michael Holding around 20,000 spectators were able to enjoy Michalsky StyleNite which was invariably a hot ticket and the culmination of the Mercedes Benz Fashion Week.
In addition to the 1,500 invited guests a further 17,595 fashion lovers followed the live stream on the internet – a record number of spectators for an event reserved exclusively for fashion insiders and celebrities.
AO Creative directed by light architect Gert Hof
PHOTO
Ralph Larmann, Anja Pietsch
LOCATION
Tempodrom, Berlin, Germany
CLIENT
Michalsky Holding