Mayday 2009
Dortmund, Germany
A&O Technology supports Mayday – 

massive moments with lighting technology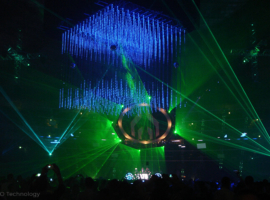 It was a complete success. On four large floors celebrated about 25,000 ravers, from 18h to 9h, on the 19th Mayday in May. And the euphorically celebrating audience, driven by a total of 50 scene acts, became one with this year's motto: Massive Moments.
The company satis&fy AG was hired by the organizer i-motion as light and sound provider to equip the techno event. For this project they handed over part of the lighting equipment to A&O Technology Germany by requesting 13 xenon spotlights of the alpha one FALCON range and about 2400m Solaris of the manufacturer G-LEC from the service provider. For the "Arena" alone, Hall 1 in the Westfalenhalle Dortmund, 40 technicians needed two days and nights to set up the spacious light and sound backdrop equipped with the latest technology installations for Mayday 2009.
This gave the arena, the largest of the four techno areas, a brilliant lighting atmosphere. Seven FALCON 6000 CMY high-performance searchlights were flown below the hall ceiling at the mobile truss "stars". Four FALCON FLOWER 7kW were located behind the 30m wide main stage and two FALCON FLOWER 3kW were placed at the FOH. During the event the audience was heated up with lighting effects via LED, xenon, plasma TVs and laser.
The G-LEC system Solaris, rented by A&O and installed for the first time at an event, was staged as an absolute highlight. Through his design idea and planning, lighting designer Martin Kuhn created a world premiere with 15,000 individually controllable LEDs. The 2400 meters of the video ball strands were flown as a huge cuboid (about 10x10x7m) in the middle above the arena dance floor. Client satis&fy developed a flexible 3D routing especially for the Solaris construction with VVVV and through the extremely variable video playing by VJ Markos Kern, a constantly changing 3D structure was brought to life and inspired both audience and client.
Lighting designer Martin Kuhn on the A&O lighting technology from alpha one and the G-LEC Solaris equipment: "Mayday was a complete success, and I would like to thank you very much for that. The Solaris worked great and was a real eye-catcher. The A&O lamps also did their job without any mistakes and were impressive in their brightness. Especially the 4 Flower at the stage helped a lot. Already looked very fat."
LOCATION:
Dortmunder Westfalenhalle, Germany

DATE:
April 2009

A&O EQUIPMENT:
8 FALCON 6000 CMY
5 FALCON FLOWER 3kW
ca. 2,000m Solaris (by G-LEC)

LIGHTING DESIGN:
Martin Kuhn

PHOTOS:
Amanda Holmes; A&O Technology