Dubai New Year's Eve
Dubai, UAE
AO Creative creates a 

masterpiece of lighting and visual design 

on the iconic Burj Khalifa for the arrival of 2019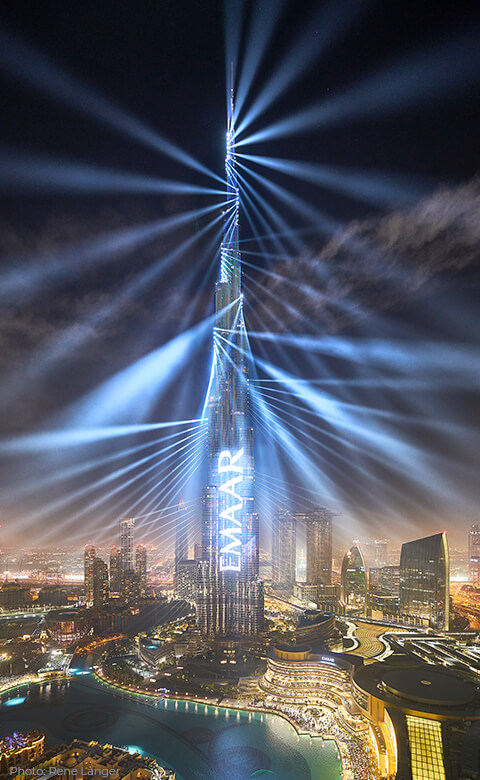 CHALLENGE
Dubai's New Year celebrations are one of the most coveted and spectacular celebrations. The presentation focuses on the 828 metres high landmark Burj Khalifa. The show for New Year's Eve 2019 demanded a stylish and energetic lighting design to blend impressive video content with spectacular fireworks. Due to AO Creative's experience with technically complex world-class shows, the team proved that they are able to create a masterpiece of lighting and image design using many different components. The major technical and logistical challenge was mounting hundreds of fireworks, moving lights and RGB lasers safely on the outside of the building. AO Creative designed, built and tested its own custom rigging solution for the tight integration of light and pyro. This gave the super-sharp beams of light a further visual impression. The experience from last year's Light Up 2018 show was helpful to make the 2019 installation faster and more efficient. One of the biggest challenges for the team was working at extreme heights in unpredictable weather. The safe transport of bulky, heavy equipment through the building to the top and outside was sometimes a big challenge.
SPECIAL FEATURES
Custom rigging solution
Mounting large quantity of fireworks, moving lights and lasers on the outer façade
Extreme heights, high altitudes and different weather conditions
Transport of unwieldy and heavy equipment through the building
REALIZATION
AO Creative worked closely with video content producers and dedicated fireworks design teams to create this complex project with many creative and technical challenges. At the same time, the team worked intensively on open and fluid communication channels between all creative and technical interest groups. One important part of the AO Creative Alliance was the renowned lighting designer Jerry P. Appelt. As in 2018, he ensured that AO Creative's multidimensional lighting design provided breathtaking visual continuity between video and fireworks shows. The architecture of the iconic building was not only refined, perfect and dynamically framed by the lighting, but was also extended far into the night sky of Dubai by the visual energy of the video and the fireworks. Supported by experienced technicians, riggers, engineers and designers, AO Creative provided a highly qualified event management and logistics team.
RESULT
Due to the long-standing partnership with Emaar Properties, AO Creative understood the complexity of the project and was able to deliver not only on New Year's Eve but also for the three months after the event, including brand new show designs shown five days a week until 31 March. Marco Niedermeier, the producer at AO Creative sums up: "It was emotional to produce, it was emotional to see! Projects of this kind require perfection down to the last detail, and that is exactly what AO Creative specializes in. This show required complex practical solutions for extreme technical and logistical challenges. Thanks to our experience and competence in the creation and production of multimedia perspectives at iconic locations – especially in tall buildings! – and our large global network of specialists, we are able to offer solutions to these challenges. Of course, it went smoothly and everyone was thrilled, which ultimately means that we are happy too."
GUINNESS WORLD RECORD
As in 2018, Emaar Properties staged a sophisticated, visually breathtaking show and won two more Guinness world records: for the "Largest LED-illuminated façade" and the "Highest LED-illuminated façade". This remarkable, oversized screen formed the central screen for a brilliant multimedia festival of video, light and lasers on the occasion of its arrival in 2019. "The UAE, and Dubai, inspire hope and optimism, and bring together a global community to shape the future. With this celebration, we are highlighting the vision of our leadership to create a new era of progress through openness and collaboration, here in Dubai and the UAE – for the world." Mohamed Alabbar, Chairman of Emaar Properties
AO Creative under the direction of Jerry P. Appelt
PHOTO
Rene Langer, Julian Huke
LOCATION
Dubai, UAE
CLIENT
EMAAR Properties
Dubai New Year's Eve 2019 – Full show
Dubai New Year's Eve 2019 – Show highlights