Böhse Onkelz live at Hockenheimring
Hockenheimring, Germany
Lighting designer 

Jerry P. Appelt with FALCON searchlights 

and the Böhse Onkelz live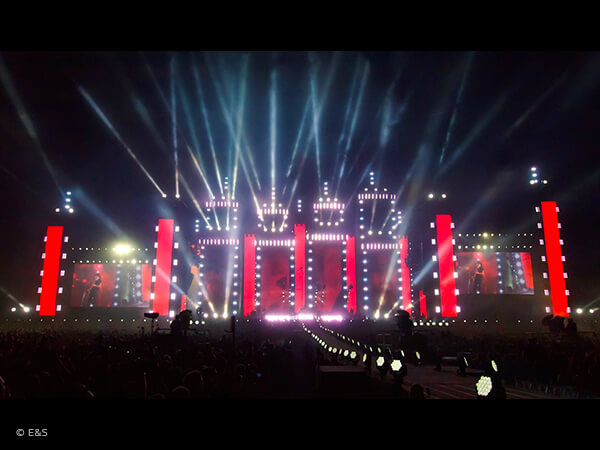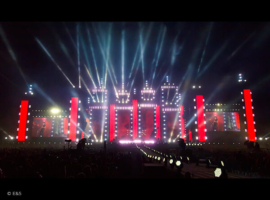 June 2014, Hockenheim – Nothing lasts forever – not even the abstinence of German rock legends the Böhse Onkelz. Fully nine years since their farewell concert, the group were celebrating their revival. On a giant stage in the glaring light of FALCON searchlights supplied by A&O Technology under contract from PRG AG, they were given a frenetic 'welcome back' by 200,000 fans.
Above the Hockenheimring hung a glowering sky right out of a horror film, and the racecourse was packed with fans. Fans of 'the Böhsen' (as they are known). In the middle of the throng rose a stage that resembled nothing so much as a brutal industrial installation. It was supposed to represent the Frankfurt skyline. Giant tours surrounded huge LED screens. On top to the towers, the brilliant searchlights from A&O Technology dominated the scene — ready for action.
Once fired up, they transformed the scene into a glowing cauldron of fire. At times it seemed as if hell itself had arisen. Glaring light flooded the Hockenheimring and pillars of fire climbed skyward. And all the time, the pounding beat and the deafening vocal growl of the Onkelz. They were back, and clearly weren't planning to let the fact escape anyone's attention. Quiet never was their thing.
The FALCONs at the Hockenheimring showed their mettle once again. Open air concerts are certainly their thing. Both concerts were filmed for DVD. Lighting designer Jerry P. Appelt had integrated over forty FALCON BEAM colour 7000W fixtures into the giant set — said to have been the largest ever constructed in Europe. Over half the high-powered FALCON searchlights were in the upper reaches on two levels — cranes had been needed to hoist them into position atop the towers. The rest were stationed on the ground to the side of the main stage or on the towers of the outer wings. The technicians had been obliged to construct the entire set in three shifts (two days and one night). A tight schedule for such an enormous stage. "Thanks to the excellent performance of the FALCONs, combined with their outstanding reliability, we did not have a single service incident in the course of the entire open air event," reported Jerry P. Appelt, looking back on the weekend of the concerts. "That's why I'm always happy to rely on FALCON searchlights."
LOCATION:
Hockenheimring, Germany
DATE:
June 2014
AO EQUIPMENT:
FALCON BEAM colour 7.000W
LD:
Jerry P. Appelt
PHOTOS:
Saskia Gaulke, Arkin Atacan, E&S