Music Festival Bremen 2009
Bremen, Germany
Lighting designer Christian Weisskircher 

illuminated the market place of Bremen with FALCON FIXTURES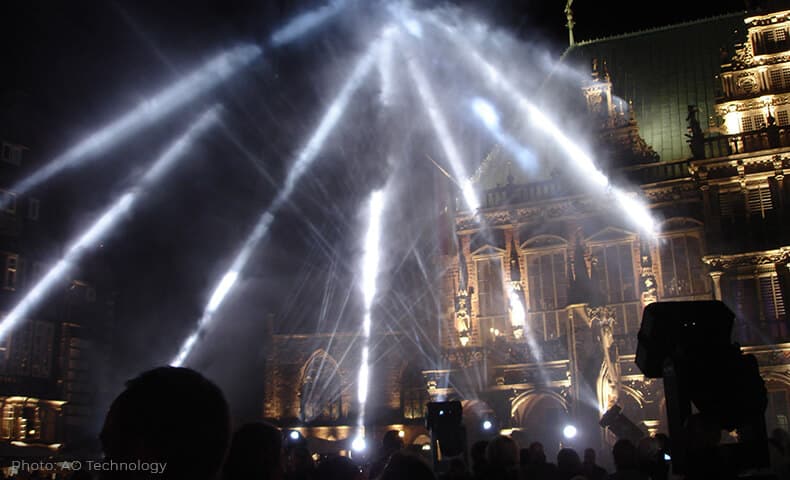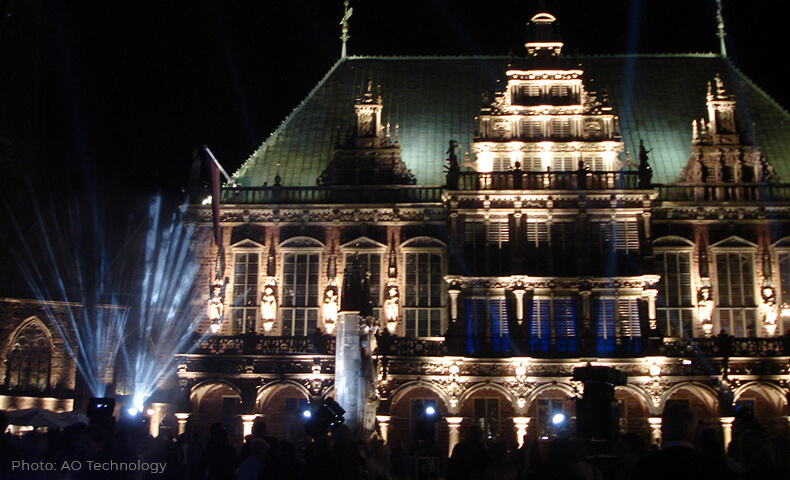 "Eine große Nachtmusik" (A great serenade) opened the 20th Music Festival Bremen at August, 22nd. The organizer Musikfest GmbH entrusted the service provider Gotaque OHG with the lighting engineering realization as well as the support of the lighting design. The atmospheric lighting design was created by the Austrian lighting designer Christian Weißkircher (Linzer Klangwolke), like in recent years.
For the Music Festival Bremen, FALCON xenon searchlights of the manufacturer alpha one from Oyten near Bremen, were applied. For the musically and culturally valuable summer's eve, service provider Gotaque ordered inter alia from A&O Technology a total of 27 FALCON fixtures.
Five FALCON FLOWER 3kW and 12 FALCON BEAM colour 3kW conjured directed by Mr. Weißkircher a lighting choreography which comprised the historical market place with its buildings like the city hall and the Roland (both sites of the UNESCO world heritage). Additionally the Chamber of crafts was illuminated solemn and colourful with ten architectural lighting fixtures SKY FALCON ARC colour 1.200W.
LOCATION:
Bremen, Germany

DATE:
August 2009

A&O EQUIPMENT:
 5 FALCON FLOWER 3kW
12 FALCON BEAM 3kW
10 SKY FALCON ARC colour 1200W

LIGHTING DESIGN:
Christian Weißkircher

SUPPORT:
GOTAQUE, A&O Lighting Technology Germany

PHOTOS:
A&O Technology